Hottest Actresses in Hollywood- Top 10
1. Jessica Alba
Jessica Alba was Born and Raised in Pomona, California, on April 28, 1981, She Started acting at the age of 13, She has made the list of the hottest actresses of Hollywood of many prominent magazines. Her movies include Fantastic Four, Sin City and Machete And the rest.
2. Megan Fox
Megan fox came into the industry  in 2001. She became a worldwide sensation at the time of the film, "The Transformers". She is 30 years old, She ranked several time among the list of the most beautiful girls in the world, Her other notable movies include Jennifer's Body, and Transformers 2 And so on.
3. Angelina Jolie
Angelina Jolie was born on the 4th of  June 1975 (age 42), in Los Angeles. California, United States, Angelina Jolie is a filmmaker and humanitarian. She has received an Academy Award, two Screen Actors Guild Awards, and three Golden Globe Awards, and has been cited as Hollywood's highest-paid actress.
4. Scarlett Johansson
Scarlett Johansson was born in New York City to mother, Melanie Sloan and father, Karsten Johansson. She is only 31 years old and is considered to be one of the hottest actresses in Hollywood. Her most notable movies include The Avengers, The Prestige, Vicky Cristina Barcelona, The Iron Man and Captain America: Civil War, Avengers: Age of Ultron.
5. Mila Kunis
Milena Markovna Mila Kunis is an American actress. In 1991, at the age of seven, she moved from Ukraine to Los Angeles with her family. After being enrolled in acting classes as an after-school activity, she was soon discovered by an agent. Mila Kunis was born in Chernivtsi, Ukraine, USSR (now independent Ukraine), to a Jewish family. The 33 years old actress has been portrayed by many magazines and media as one of the hottest celebrities in Hollywood. Her most notable movies include Black Swan, Friends with Benefits, and Forgetting Sarah Marshall. Her hotness prompted a US Marine Corps Sergeant to ask her out on a date through YouTube, which she accepted
6. Natalie Portman
Natalie Portman is an actress with dual American and Israeli citizenship. Her first role was in the 1994 action thriller Léon: The Professional, opposite Jean Reno. She was later cast as Padmé Amidala in the Star Wars prequel trilogy. The beautiful, She is one of the most beautiful women in the world. She won 2011 Oscar for best actress for her movie, Black Swan. Her star has been on a continuous rise. Her other notable movies include V for Vendetta, Thor, Closer, and No Strings Attached.
7. Marion Cotillard
Marion Cotillard is at top of the list of hottest actress in Hollywood. Marion Cotillard is a French actress who over the last few years has made it big in Hollywood. She was born on the 30th of September 1975, She is now famous worldwide and is one of the most beautiful actresses of this generation. She starred in the movie, Inception. Other movies like Midnight in Paris and Public Enemies were very well received.
8. Olivia Wilde
Olivia Wilde is an American actress, model, producer, and director. She was born on the 10th of march 1984, She is well known for her role as Dr. Remy "Thirteen" Hadley on the award winning medical-drama television series House. She is one of the hottest actresses in Hollywood. She has appeared in a number of television shows and commercial movies.
9. Charlize Theron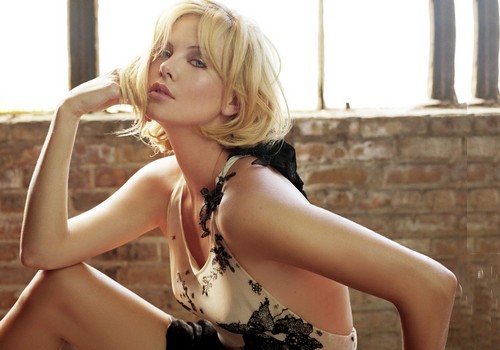 Charlize Theron is one of the Hollywood's hottest actresses and has excellent acting skills as well. She is from south Africa, She was born  on August 7th, 1975, but she looks young and gorgeous as ever. She became the first South African to win an Oscar for her film, Monster. Her other notable movies include The Devil's Advocate, The Italian Job and Mighty Joe Young.
10. Emma Stone
Stone began acting as a child as a member of the Valley Youth Theatre in Phoenix, Arizona, where she made her stage debut in a production of Kenneth Grahame's "The Wind in the Willows". She appeared in many more productions through her early teens until, at the age of 15. Stone was a cast member of the TV series Drive, and made her feature film debut in the comedy Superbad (2007).
---
---